You know what time of year it is? April and May Texas Turkey hunts at Schmidt Double T Ranches!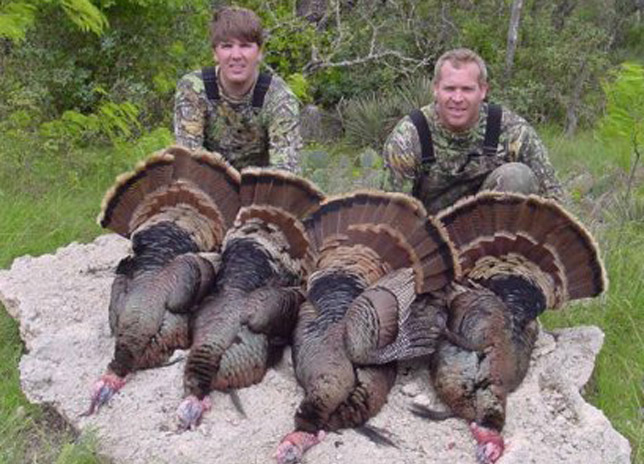 This is one of our favorite times of the year as we track down these big, elusive birds for two months with our hunters.
Beginner or advanced, bow or gun, we have hunts for those looking to go on an exciting guided turkey hunt. Check out our turkey hunting page for more information on our hunts, what they include and the reasonable rates to stay, eat and hunt at our modern lodges.
Let's take you through a couple of tips that will ensure you have a successful turkey hunt.
Camouflage
You need camo to be successful. Turkeys have outstanding eyesight, and when they see a hunter, they run. It's been said they can see a hunter blink, so consider getting a camouflage mask to disguise any movements in your face. Try and find gear that will match your surroundings, but if typical military issued gear will work too.
Calls
Box calls are some of the easiest calls to make and they highly resemble the call of a turkey. Basically a box call is when you slide a wooden striker against a resonating box and it sounds almost exactly like a turkey. Experienced hunters can make the turkey call sound like a tom, a male turkey, or a hen, a female turkey. You can attract both with the right kind of box, it just takes some practice.
In the spring, sounding like a hen is your best bet because males are looking to mate after a long winter.
We have great success and we look forward for you to join us on an exciting Texas turkey hunt this spring. The gobblers are big and wary, which only makes the hunts that much more thrilling.