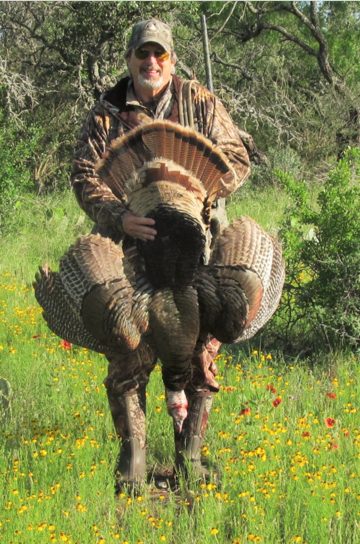 At Schmidt Double T Ranches, we have plenty of experience with the wild Rio Grande turkeys and it's no secret that these birds are an elusive game to hunt.
On our Texas turkey hunts, we've been able to figure out exactly what it takes to get a turkey tagged, and it starts with understanding turkey sounds and the most effective calling methods.
What to Know About Turkey Sounds
You won't be able to tag a turkey, if first you can't locate one, and second, you can't reel them in. Study up on a few of the most important turkey sounds that will help you find success on your hunt!
The Gobble
Male turkeys earned the nickname "gobbler" because of the famous call that anyone would recognize. The gobble is a loud, throaty sound that reminds us of a rooster's crow. When you hear this familiar turkey sound, you can assume the gobbler is high up in his roost, since the call can travel further higher off the ground.
The Cackle
It's a series of oddly spaced notes that heightens in pitch towards the end. When you hear a cackle, it usually indicates that a tom is leaving his roost. However, these birds also cackle when flying back up to their roosts.
Both calls have their advantages when it comes to hunting the birds.
Fly-down vs. fly-up cackle
Use a fly-down cackle to let a tom know there's a hen on the ground. This call works best when the tom is also on the ground, or else he might stay persistent in waiting up at his roost for a hen to come to him, instead of the other way around.
When you're trying to locate your tom in his roost, a fly-up cackle may encourage that tom to gobble, successfully revealing his position.
The Yelp
One of the more basic turkey sounds you'll encounter is the yelp.The sound is usually used by a hen to communicate with a tom during mating season and is one of the most popular turkey calls utilized by Texas hunters.
Focus on Tone and Rhythm
The art of turkey calling actually starts with finding the right tone and rhythm to replicate a turkey naturally. When focusing in on your target, be sure to try different tones. No hen sounds as perfect as the sound you're replicating with your box call, so a couple different pitches will help make your call seem more natural and luring.
An unnatural rhythm won't fool a tom, so with this element of turkey calling, practice makes perfect. Take some time to listen to live turkey sounds and expert callers to get a sense of the rhythm you need to replicate.
Looking to plan your next hunting trip? At Schmidt Double T Ranches, we have some of the best turkey hunting in Texas. Check out our turkey hunting packages!
Contact Schmidt Double T Ranches at 325-347-2613 today or visit us online for more information!