German Shorthaired Pointers originally come from Germany. Yes, you guessed it right. The purpose back in the day was to develop a breed that would be able to perform hunting missions by their instinct rather than their training. The best thing about Pointers is that they are extremely loveable and playful as well. They make for great companions, and they are loyal.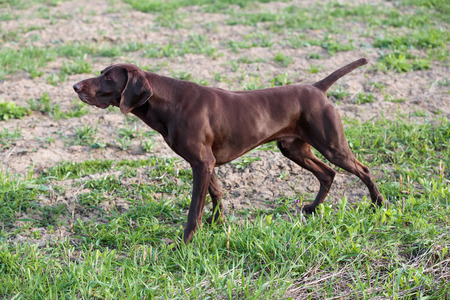 They Can Point Out and Retrieve
Pointers are meant to assist the hunter on a hunt. They can hunt out your prey, point it out, and retrieve it when it is shot and killed. They can also stalk and track wounded game, which helps a hunter make sure they get their game killed.
German Shorthaired Pointers are great hunting dogs when it comes to hunting quail. At Schmidt Double T Ranches, we offer guided quail hunts which involve well-trained pointing and flush dogs assisting in the hunt.
Not Only for the Hunt, But for the Family Too
German Shorthaired Pointers are not only great for hunting and game, but they also are wonderful family dogs. They carry a good amount of energy, so they're always looking to get outside and play. They look to please their humans, so it's important that attention is paid to them on a regular basis.
Schmidt Double T Ranches
Here at Schmidt Double T Ranches, we provide guided hunts for whitetail deer, quail, and turkey. We utilize the flush and pointer dogs because they are versatile, smart, and agile. We take pride in our hunts, and we know that you'll be satisfied with what we have to offer for you, your family, or your friends.
Upcoming Hunts:
The Spring Turkey Hunt full balance is due on March 1, so it's important to get on the schedule with us and pay for the half amount ASAP.
After this Spring hunt, the next hunting starts in September with Quail. Remember to stay tuned and check out our blog for more information.
Contact Schmidt Double T Ranches at 325-347-2613 to get more information on our hunting packages and lodging for the upcoming season. If you're already going with us on our Spring Turkey Hunts, we look forward to seeing you!