The contemporary hunter is not fully equipped without a well-appointed quad. Allowing for increased mobility into deeper, less chartered woods without having to leave behind excursion essentials, an all-terrain vehicle is a must-have for any woodsman's arsenal. Aside from the obligatory camouflage and quiet approach, there is so much more to look for in a hunting quad, especially with today's advanced features.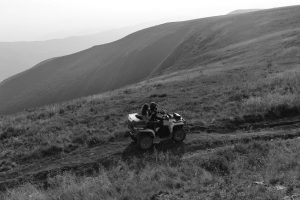 Vehicle for Rough Terrain
Quads today are now built better than ever with more advances than ever before. With this, there are some standards to keep an eye out for when in the market for newer models. For example, quads are faster than ever with up to 25% more horsepower. So make sure the model you are interested in has at least 40 horsepower.
Features to Look Out for
Additional features to ensure your all-terrain vehicle includes is electronic fuel injection (EFI) and dual overhead cams to ensure smooth and flawless operation. And what good is a quad without optimal traction. So making sure your new ATV has an advanced AWD system or automatic 4×4 system is imperative to backwoods performance.
Convenient for Your Gear and Equipment
Finally, in addition to adequate storage for your excursion- permitted with such features as rack and securing rack features- you have to make sure your new ATV quad is built to run. In addition to more charging power, you obviously want to make sure you have sufficient fuel capacity. Models today are available with up to 15% more than the industry standards of only a few years ago.
At Schmidt Double T Ranches, we provide some of the best hunting trips here in Texas. If you're looking to go on an incredible hunting trip, don't hesitate to reach out to us. Contact Schmidt Double T Ranches at 325-347-2613 today or visit us online for more information!