Hunting has been going on since the dawn of man. It can be one of the most meditative activities to do, especially when you're trying to get a kill and use that meat to feed your family for however long. If you're an avid hunter, and you are looking to help teach your children or child on how to hunt, there are some tips you should follow to get them started.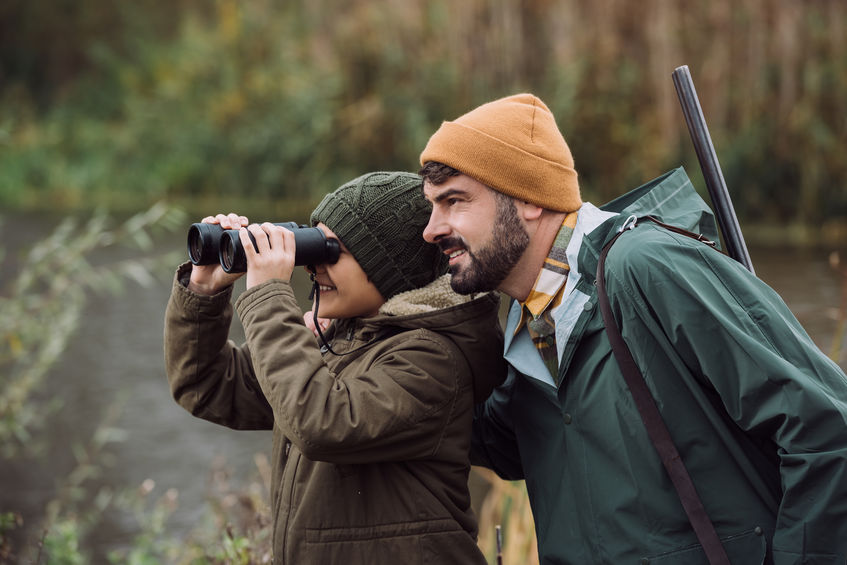 Get Your Child Mentally Prepared
Almost all children might be frightened at the reality of the hunt. Hunting and killing an animal for them is a very new and wild concept to them. So, it's important to not bring them out hunting at too young of an age. When they understand the concept of hunting an animal and are comfortable with it, then you can ease them in. It's very important to teach them first before taking them out.
What is the Best Age?
Many states don't have any restrictions on the age where someone can go out hunting, but other states can range from 10-16 years old. Do some research on your state to find out what is the minimum age for child to go out hunting. Most importantly, you must know your child. If your child is not ready, then you should know this. Ultimately, it's the decision of you (the parent) and the child.
Strategy, Technique, and Education
The most important aspect of hunting is having the experience and knowledge. As a parent looking to take your child out hunting for the first time, you must be able to educate them on scouting, technique, responsible hunting, gun care, and other hunting safety practices. Giving them all the knowledge that they can get will allow them to gain confidence in going out hunting. Keeping them dedicated to the preparation aspect of hunting can determine if they're ready to go out.
Once you've prepared your child, discussed the reality of hunting, and made sure they have the desire to go out hunting, then you're ready to enjoy the hunt. Down the road, it's highly encouraged to make the hunt more enjoyable by taking them on a Texas guided hunt.
At Schmidt Double T Ranches, we specialize in guided hunts for whitetail deer, quail, and turkey in Mason, Texas. We provide you with all the land and the lodging to enjoy a beautiful environment to hunt in. Contact Schmidt Double T Ranches at 325-347-2613 today or visit us online for more information!