Hunters know there are many rewards from just one single hunt. The workout rewards your muscles; the hunt rewards your brain and your pride, and so on. However, most enthusiasts agree that the biggest reward is in a successful hunt, and in the meals that they create.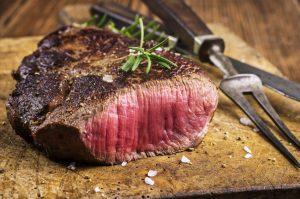 Hunting for sport helps control the deer population so they do not starve, and it has been this way for a very long time. Hunting preserves also have strict feeding regulation for deer and other wildlife. This means you'll usually bag a big and healthy deer; a deer that will provide you with a lot of extra meat.
Many hunters prepare the meat on their own or hire a local butcher to help. When the meat comes back, you have a plethora of dinner options from which to choose.
Amazing Recipes from Allrecipes
Extra Meat
Maybe the deer was huge, or maybe the appetite was too small. Either way, hunters usually end up with a few extra pounds of venison. Instead of eating deer-meat for weeks on end, you can actually freeze pack most of it, thawing it on an as-needed basis.
The good news is that freeze packing is easy, and only takes a bit of elbow grease and some mason jars. Clean out the jars and line them up on the counter. Pack meat tightly into each jar, pushing the meat down with a wooden spoon. Add a small dash of salt into the jar and seal tightly. You can seal the meat tightly by using a mason jar and traditional jarring methods, commonly used for making jam. You can also choose to do this with a canner as both options work well. The salt, the airtight containers, and the freezer will keep this meat exquisitely fresh until you can eat, and enjoy, a venison meal.
Donating
Ask your local butcher or hunting outfitter where you can donate extra meat. If you don't have the time for canning, or don't want that much food, consider giving it to a needy family or a struggling business. Your hunt is truly the most rewarding, when it can give back to the less fortunate.
At Schmidt Double T Ranches, we provide a hunter with some of the best hunting experiences they can ask for in the state of Texas. Contact us today at 325-347-2613 for more information about our guided hunts.