The Texas drought in 2011 affected how things played out for this year as Jakes dominated the 3,000 acre landscape.
Hunters were successful though, playing to the big gobblers and able to take down some nice prizes throughout the 14 hunts Schmidt Double T Ranches hosted this year.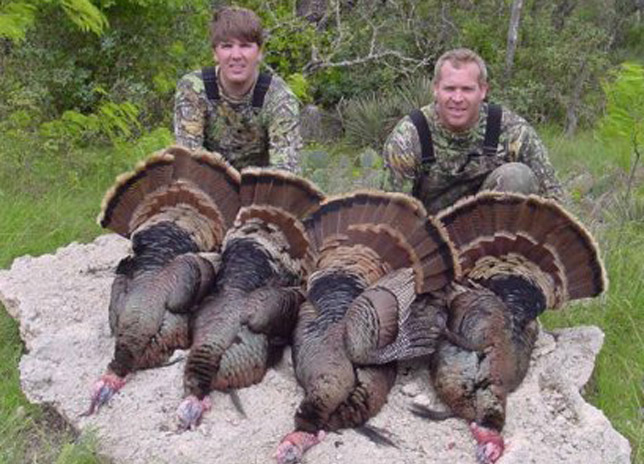 The key was trying to avoid the Jakes, a one-year old gobbler, which was hard to do throughout some of the hunts.
"We just got a jillion of Jakes," said Tim Schmidt, owner of Schmidt Double T Ranches. "We would see 20 or 30 or Jakes every time we went out. There weren't many birds in between. Either had old birds or young birds."
Schmidt Double T Ranch wasn't alone. Reports all over the state noted a down year for the Spring Rio Grande Turkey Hunts, which are some of the most exhilarating hunts in the U.S. There was an extremely good hatch in 2012 that accounted for all the Jakes this year. But the 2011 drought had an effect on the 2013 season as the 2011 drought affect the hatch. So the gobblers were limited and the Jakes dominated.
When hunters heard or saw a Gobbler and went for a turkey call, the Jakes came out flying out to strut their stuff, trying to impress the potential hen. Another problem was, with so many Jakes around, the Gobblers weren't talking to the hens much, and discovering them was a challenge.
But in 2014, things will be much different. Seeing all those young Jakes has the ranch excited when they turn into big gobblers next year. The Jakes will also become smarter, more elusive gobblers in 2014, making the Texas Spring Turkey Hunt a must at Schmidt Double T Ranches.
"It ought to be a fantastic year next year," Tim said of 2014. "There's going to be a ton of two-year olds."
Make sure you get in on the action and reserve your chance for what could be an outstanding Texas Spring Turkey Hunt at Schmidt Double T Ranches next spring.