Turkey Hunts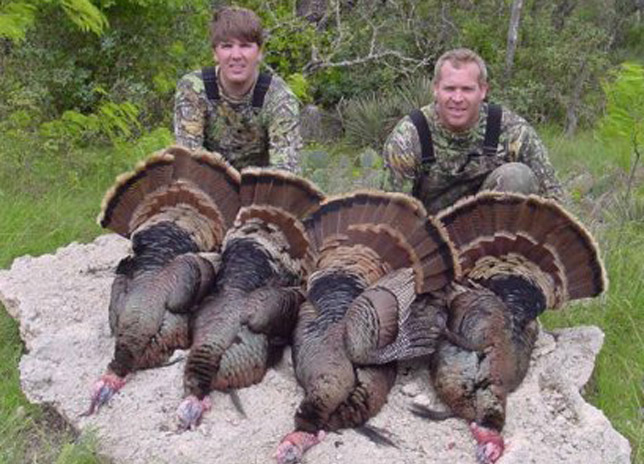 Top-Notch Guided Turkey Hunts
The Schmidt Double T Ranches are home to a large number of Rio Grande Turkeys. We offer some of the finest spring turkey hunting to be found anywhere. Our healthy turkeys can weigh close to 25lbs and span across 3000 acres for an exhilarating hunt. Our hunting trips can be geared towards beginner or experienced hunters, and prices vary along with guides for your skill level. Beards average 10 inches plus and spurs 1- 1 1/2 inches. We ask that all of the hunts are done with a gun or bow.
Come for a corporate hunt, or a weekend family trip! Our guided turkey hunts can last for three days and three nights in some packages. We offer you the option of having us supply your meals. Should you select a package that includes your meal, you will be rewarded after you hunt with delicious Texas styled BBQ dinners. When the weather looks promising, we often set up a campfire and reminisce through the day's events and have a few drinks with the group. This is often the most rewarding experience on the hunt.
We limit our bookings to keep a small and personalized group with a guide. This ensures for a great hunt, where you can focus on your hunt, and socialized with a small group. Turkey hunting in Texas has never been more fun and motivating!
We require that you carry a valid Texas Hunting License, and we have them available for those who need to purchase them prior to their guided hunt.
You must have a valid Texas hunting license and may purchase it upon your arrival in Texas. Non-resident turkey license: $125
Images
---
Packages
A 3 day 3 night hunt for 2 Rio Grande gobblers, semi-guided, lodging, linens included. Hunts are done in April and May.
$1200.00 without food, NON-REFUNDABLE,
Half down to confirm.
Balance due: March 1.
Non-hunting guest: $300
$1400 with food, NON-REFUNDABLE,
Half down to confirm.
Balance due: March 1.
Non-hunting guest: $450
$450.00 NON-HUNTING GUEST FEE
Spring Turkey: April – May