Turkey Hunts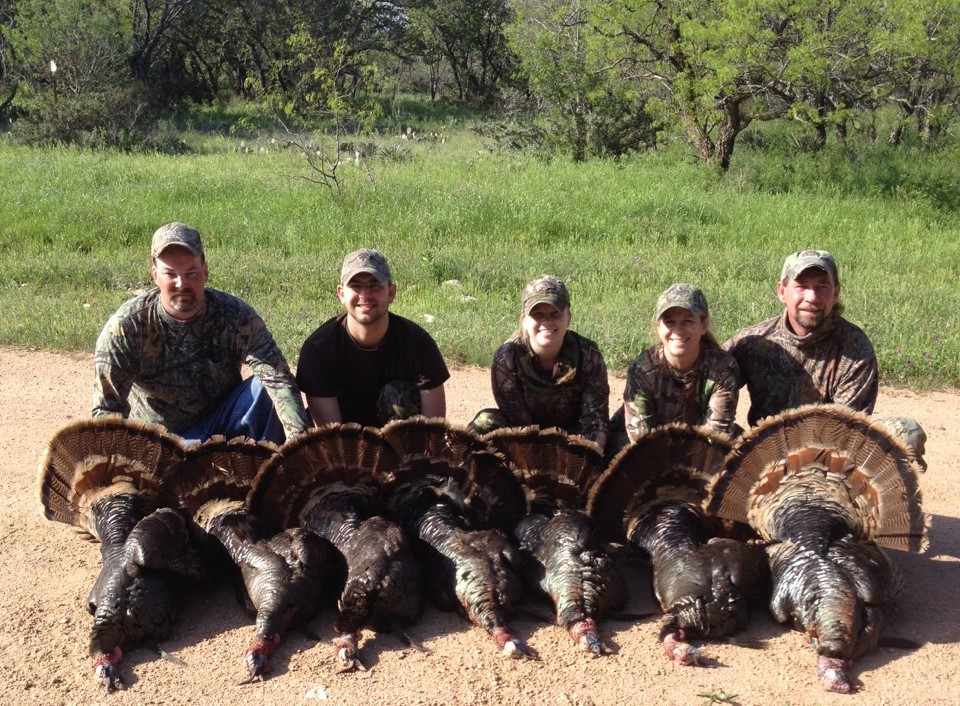 Top-Notch Guided Turkey Hunts
The Schmidt Double T Ranches are home to hundreds of Rio Grande Turkeys, offering you some of the most abundant hunting in the region. Our 3000 acres provide the perfect backdrop for an exhilarating gun or bow hunt and memories of a lifetime.
A perfect experience for novice and experienced hunters alike, our hunting trips are available in a number of different packages to fit your skill level. Our healthy turkeys can weigh close to 25lbs with an average beard length of 10 inches plus and spurs of 1- 1 1/2 inches.
A perfect option for a corporate hunt or a weekend family trip, our guided turkey hunts can last as long as three days and three nights. Additional package options include meals, consisting of Texas style BBQ dinners. And when you're done eating, plan to retire to the den or campfire- weather permitted- to trade stories from the brush.
Intent on giving you the best hunting experience, whereby you can focus on your hunt as much as possible, we limit our bookings to keep a small and personalized group with a guide. This also encourages motivation and perpetuates a culture of comradery.
All you need to bring to the hunt is your valid Texas Hunting License prior to their guided hunt- which we even offer for purchase. You must have a valid Texas hunting license and may purchase it upon your arrival in Texas.
Non-resident turkey license: $125
Images
---
Packages
A 3 day 3 night hunt for 2 Rio Grande gobblers, semi-guided, lodging, linens included. Hunts are done in April and May.
$1200.00 without food, NON-REFUNDABLE,
Half down to confirm.
Balance due: March 1.
Non-hunting guest: $300
$1400 with food, NON-REFUNDABLE,
Half down to confirm.
Balance due: March 1.
Non-hunting guest: $450
$450.00 NON-HUNTING GUEST FEE
Spring Turkey: April – May